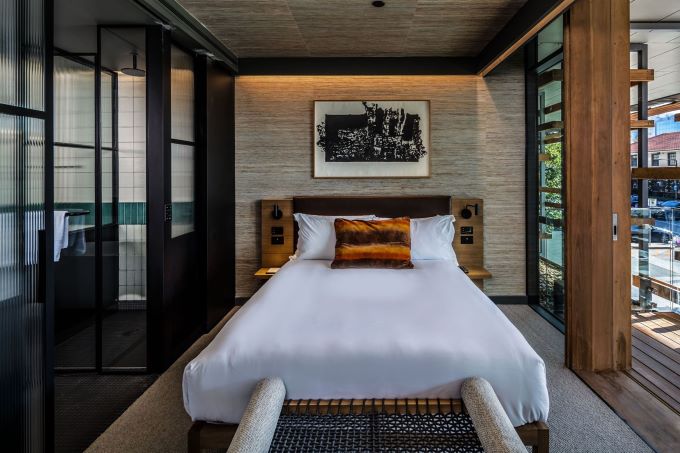 Ovolo is embracing the 'small is beautiful' concept with the unveiling of 17 new rooms at Canberra's Ovolo Nishi and plans for a micro-hotel in Melbourne.
The 100-room Mojo Nomad South Yarra, due to open in the inner city suburb by 2020, will offer a mix of accommodation from shared rooms to private rooms to suites, each with a "distinct personality" created by interior designers Luchetti Krelle.
Shared rooms in the brand's flagship Australian property will include privacy screens, TVs, reading lights and Bluetooth headphone capabilities, while the hotel's communal spaces will include a cinema room, library, gym and lounge.
Ovolo's new Canberra development, also featuring Luchetti Krelle design, is part of the Hong Kong-based hotel group's $5 million overhaul of the former Hotel Hotel.
Renamed Ovolo Nishi when it changed hands in March 2018, the property's new wing encompasses 14 Snug Sun rooms, two Original Sun rooms and the Creative Sun room which includes a balcony, all finished to the highest design specifications within their compact floorspaces.
The rooms are described as "sleek, sundrenched intimate spaces", each featuring a queen bed, retro writing desk with enclosed mini bar and an Indian woven day bed doubling as a luggage rack.
A single vanity and rain shower for part of the bathroom offering.
"With ample natural sunlight, each living space is paired with rustic touches of industrial timber and exposed concrete, creating an urban 'concrete jungle' effect in the heart of Canberra city," said an Ovolo release.
"Accents of brass and leather teemed against a colour palette of soft burgundies and bottle greens will have guests feeling snug in their home away from home."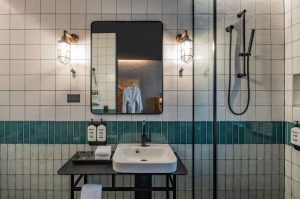 Priced from $220 per night, the room cost includes free extras including breakfast, social hour drinks and snacks, in-room mini bar, 24-hour gym access and 'loot bags' filled with snacks.
Ovolo Group Australia chief operating officer Dave Baswal said, "In true Ovolo style, we're constantly evolving to bring our clients the best, most personalised service we can. In order to do this, we continue to listen and learn to bring our guests what they want and need.
"The rooms are compact and include everything our guests could want for a quick overnighter – they're simple yet chic, without skimping on Ovolo's signature style. The ideal stop-off sensation to guests travelling to Canberra."
Ovolo Nishi includes the bar and restaurant Monster and is in Canberra's art and cultural precinct of NewActon.