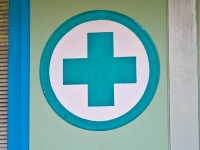 Tasmania's minister for health, Michelle O'Byrne, and the federal member for Braddon, Sid Sidebottom, this week officially opened a new $3 million home away from home for patients travelling to the North West Regional Hospital.
Ms O'Byrne said the 12 new units, built on the hospital grounds, will make hospital visits easier and less costly for patients and their families who live some distance from Burnie in places such as Circular Head, King Island the West Coast.
Ms O'Byrne said people who lived at least 75km from the hospital would be able to claim some of the cost of staying in the new units through the Patient Travel Assistance Scheme.
"The new units are expected to benefit a range of patients, including those receiving day treatment who do not need to be admitted to hospital but who need somewhere to stay overnight, discharged patients requiring overnight accommodation, patients requesting accommodation the night before a major procedure and clients of the future North West Cancer Care Centre."
Ms O'Byrne said, "Each unit is self contained with kitchen and laundry facilities and a car parking space and is set in landscaped gardens easy access to the main hospital site."
Ms O'Byrne said the units also included environmentally-friendly features such as solar panels and solar hot water. The project to build the one and two bedroom units was funded by the Australian government under the Tasmanian Patient Transport Initiative.