News In Brief
Coolum Resort Seriously Moves Towards Chinese Market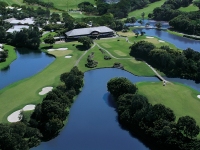 Hyatt Regency Coolum has appointed a Guangzhou-based sales representative and introduced a raft of new measures for Chinese guests.
This is part of a concerted push into flourishing tourism markets in China.
The resort this week launched a new Mandarin website as the latest in a series of Chinese-language marketing tools that will be used by a Guangzhou-based team from specialist sales agency Parker Travel Collection.
New brochures, videos, menus and a newly appointed Chinese-speaking guest liaison officer have also been introduced, part of a comprehensive best-practice program for the Chinese market.
Hyatt Regency Coolum will also capitalise on its status as the host of the Australian PGA Golf Championship which last year attracted China's top player Liang Wen-Chong. Resort representatives will attend a major golf show in China this month and have introduced a Chinese-language golf brochure.
Director of sales and marketing Pip Close said Hyatt Regency Coolum aimed to be a pioneer among Queensland tourism operators in developing Chinese markets.
"We see enormous potential for Queensland and believe the Sunshine Coast is ideal for the Chinese visitor," Ms Close said. "We want Hyatt Regency Coolum to be a leader not only in pursuing a Chinese marketing strategy but also in providing the best possible service to Chinese guests here at the resort."
Having mounted regular sales missions to Shanghai, Beijing and Guangzhou, the resort will now maintain an ongoing presence in China led by Parker Travel Collection's Anthony Teng, a China specialist with almost a decade's experience in the Australian travel industry.
The resort has also implemented an extensive staff training program to prepare 40 key managers for the needs of Chinese visitors.
Among Chinese-language material produced for guests are welcome letters, maps, brochures and menus for the resort's popular Village Square eatery Noodles, where dedicated Chinese chefs are able to prepare Chinese banquets for groups.