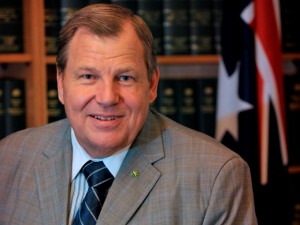 In the senate estimates last week, the government failed to explain why the Tourism Forecasting Committee had still not modelled the impact of a carbon tax on the tourism sector, despite having been put on notice in February there was a need for it.
Shadow tourism minister Bob Baldwin (pictured) said the government's attempts to block or delay scrutiny of its performance and policies was becoming a familiar pattern. "After Labor used its numbers to reduce time for tourism portfolio questions to half an hour tourism minister Nick Sherry was unconvincing with excuses for delaying and avoiding key reports," Mr Baldwin said.
The Senate Economics Committee learned how an independent report 'Tourism Investment and Regulatory Review' that was damning of government performance, was delayed until 14 October because it was more "convenient" for ministers to sign off on its publication after the sector's annual conference in Parliament House.
Mr Baldwin said the report's opening paragraph made clear the Government's motivation in delaying its release:
"Over the last decade Australia's tourism performance and competitiveness has faltered. ABS data show that over the last decade, domestic overnight trips have fallen from 72 million to 64 million (7.8 percent)"
The tourism minister was then reminded that senators had been waiting since February and were still waiting, for the results of modelling into climate change and possible impacts on tourism – even though carbon tax legislation had now passed the Lower House.
"Whilst LEK's damning report was nowhere to be seen during last weeks' conference, the government had no trouble making available its 'State of the Industry 2011' report and the 'Tourism Forecasting Committee Report' – both written by the department's own staff.
"It's actually quite sad for the agency's staff. Tourism Research Australia has been muzzled by the government since it no longer operates as an external agency and has been reduced to generating 'spin' to support Labor policies," Mr Baldwin said.
"TRA's forecasts are supposed to represent the most likely outcome given past trends, current information and the impact of policy and industry changes. And here we have a report on the future of the sector which is completely silent on the impacts of a carbon tax.
"This is despite the fact that peak industry group the Tourism and Transport Forum has signalled that 6400 jobs would be lost in the sector as a result of the carbon tax.
"I think everyone in the country knows by now that a carbon tax is government policy. It has been government policy since the prime minister broke her election promise not to introduce one.
"If it was a good policy the government would have demanded that Tourism Research Australia, if not an independent external agency, model its impacts and publish the results.
"Blocking research into the carbon tax only serves to highlight the negative impact it will have on household holiday budgets. It doesn't give tourism businesses any confidence about what higher fuel and electricity prices will mean for them," Mr Baldwin said.