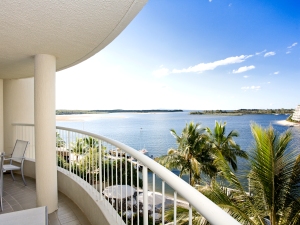 Profiles
Noosa Pacific Riverfront Resort
Noosa Pacific Riverfront Resort is located right on the Noosa River on Queensland's Sunshine Coast.
Boasting absolute water frontage on the Noosa River, the resort offers spacious apartment style accommodation and is just minutes from the restaurants and cafés of Noosaville's Gympie Terrace, and an easy walk from the restaurants, cafes, boutiques, style and sophistication of Noosa's famous Hastings St.
Noosa Pacific has a unique location on the waterfront with extensive broad water and ocean views. Built in 1988, the north facing property was truly developed for the warmth winter sun. One of only four high rises in Noosa the property has five floors with lift access from basement to each level.
Sue Smith and Steve Shanahan acquired the management rights to the property five years ago.
Previously an electrical contractor for 25 years and coffee shop owners for two, Steve and Sue saw huge potential in the property and decided management rights would be a much more viable industry to be involved in.
"We decided to work in management rights because all money is upfront and you aren't chasing outstanding monies. The size of Noosa Pacific and being able to employ staff really appealed to us," says Sue.
When the couple arrived in February 2006 the property required a lot work. But gaining the trust of owners proved to be a challenge on its own. "One of the hardest things is to convince the owners it is in their best interest to have an apartment that is modern and renovated," said Sue. "It took the owners about two years to feel confident with us and now we have an ongoing job of upgrading the apartments. The first renovation was our own apartment and the office. To date we have renovated 15 apartments," she said.
The couple are now working with body-corporate to carry out a full renovation in all common areas. Completed renovations so far include the painting and carpeting of all foyers, resurfacing the full size tennis court and replacing all seven barbecues and a complete re-pavement of the pool area. "Our gardens have been upgraded over the past two years. The property was painted in 2007. And the next big job will be replacing the two lifts which we are saving for at present," said Sue.
TripAdvisor recently rated the property 46/82. Unimpressed Sue believes the score isn't a true reflection of the property at all. "TripAdvisor is unfair in taking notice of people who feel they have had a bad experience when asked to pay for hire of tennis racquets, telephone calls or toilet paper or you forget to smile because you have a million things on your mind. Then they write a book on you how the accommodation was not to their expectation," says Sue.
"To reply to TripAdvisor we are not allowed to be personal…
"I only work the front office on weekends. Steve does all the unit maintenance and I check the cleanliness and quality of the apartments," she added.
Never the less it will take more than a rating to rattle this determined pair. And with a 60% repeat cliental proof of their success in bookings.
"We have a wonderful female guest who is 96 years old that has been coming to Noosa Pacific for 20 years in the same unit at the same dates every year.
"Also the loyalty of our staff really makes working in this industry less complicated. Our cleaners are a husband and wife and when busy call on their son for assistance. We greatly appreciate the work they do. They have been with us for five years this month.
"We also have Mel in the office who also has been with us for five and a half years she works three days a week and knows the property back to front. Our pool and barbecue cleaners are also a husband and wife team that have been with us for five years," says Sue.
"When we first started at Noosa Pacific I worked the office seven days a week for six months but we soon realised that this was not the way to last in this industry."
Noosa Pacific Riverfront Resort offers stylish self-contained apartment accommodation with a choice of Waterfront apartments and penthouses which offer magnificent views over Noosa's waterways or the casual comfort of our Garden Side apartments set amidst landscaped tropical gardens. The resort offers all the facilities you could wish for on a holiday escape including a private beach, heated pools, spas, saunas, gymnasium and a full size tennis court.
The property has a total of 51 apartments and 47 of them are let.
The Waterfront Apartments are two- and three-bedroom apartments and three-bedroom penthouses. All are individually furnished to a high standard and offer direct access to the waterfront pool, beach, private jetties, gardens and barbecue area. Penthouses offer an extra level of luxury and feature a large roof top terrace with private spa, sauna and barbecue.
The Garden Side resort is set amidst tropical surrounds. The two and three bedroom apartments contain a walk-through bathroom, and casual comfort – ideal for families or couples. While the three bedroom penthouses offer an ultimate luxury accommodation experience. Boasting magnificent panoramic views of Noosa River and the ocean, each two level penthouse is individually designed and stylishly furnished.