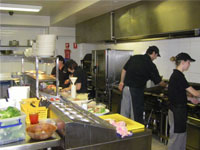 Gilmore's Hotel at Coniston has been placed in receivership and is once again set to be sold.
The hotel, which opened in 1955 and has recently undergone $4 million worth of renovations, was in the hands of the Gilmore family for 30 years until receiver Alan Hayes, from PPB Advisory, was appointed this month.
Mr Hayes said the receivers expected strong interest in the hotel and there had already been a number of unsolicited offers to buy the property. A sale campaign is due to begin next month.
The pub failed to sell when the Gilmore family placed it on the market last year.
PPB Advisory has appointed hotel manager Pat Cullen to run the pub until it is sold. Mr Cullen yesterday said it was business as usual and that all staff had been retained.
Real estate firm Jones Lang LaSalle has been appointed to manage the sale.