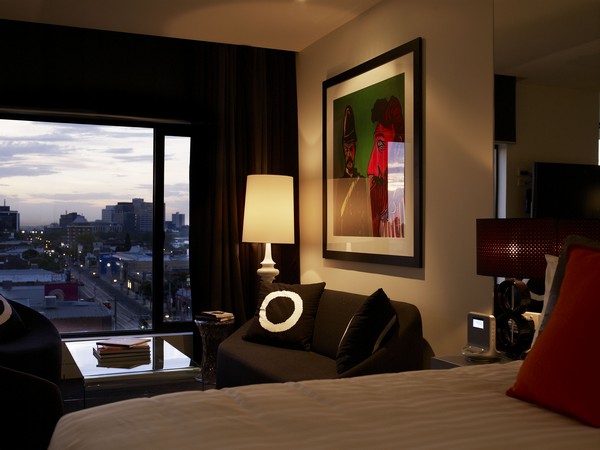 The benchmark of luxury accommodation within Australia has been raised forever with the opening of the inspiring and unique Cullen Hotel.
The first of six properties planned by the independent Art Series Hotel Group, The Cullen Hotel is named after famous controversial Australian artist, Adam Cullen and features 450 pieces of Cullen's work including seven large original acrylic canvases in the foyer, two life sized statues and a number of digital prints through out the property.
After initial bursts of sweet-shop colour, draw closer to read the depth and intelligence of Adam Cullen's work. Dubbed as the enfant terrible of the Australian art world, Adam Cullen's style has been described by some as "revolting yet compelling". The controversy surrounding his work is what makes the property all that more enticing – the blend of sleek luxury with Cullen's disturbingly beautiful grunge style balances perfectly.
The $48 million dollar development was created by prominent developers, the Deague family and The Cullen general manager, Troy Cuthbertson said Adam Cullen's work is reflected in the architecture and general design of the hotel.
"The interior and exterior architecture and design heavily reflects Cullen's work from the vibrant colours inside to the fluorescent light green exterior and unique protruding 'pod' balconies."
These vibrant colours, drips and rainbow smears outlined by wobbly black brushstrokes are the trademarks of Cullen's work and to educate staff and introduce guests to Cullen's works, the hotel has employed a full time art curator.
"Jane O'Neill is our art curator. Her role is to make sure all of the staff are well educated not only in Adam's work but in art in general and to introduce guests to Adam's work. She is also available for one-on-one art tours of the hotel."
For those guests who are really keen to learn more about Cullen and his style of work, the hotel has created a dedicated art channel featuring a half hour documentary on Cullen including footage of him painting in his studio and commentary from art curators.
While The Cullen invokes inspiration and creativity through Cullen's works, the hotel itself encourages relaxation and rejuvenation with its plethora of features and facilities. The six storey complex features 115 rooms in six styles of accommodation: studio suite; studio suite twin; deluxe studio suite; deluxe studio suite twin; deluxe studio suite balcony and Cullen suite.
All 115 rooms feature specifically designed beds by AH Beard, state-of-the-art in-room technology, luxurious furnishings and modern appliances.
Jenny Clifton from AH Beard said, "AH Beard was delighted to be chosen as the supplier of beds for the Art Series Hotel Group. Working in close collaboration with the group's management, our sales and product development team has created a signature bed that complements the Art Series décor and becomes an integral part of the experience."
The Cullen's ground floor is home to two of Prahran's hottest new dining facilities, the 140-seat Asian dumpling restaurant Hutong and Euro-designed, Terrace Bar & Bistro.
The interior design of Hu Tong includes beautifully-carved antique wood screens, billowing Chinese silk curtains and red lanterns that set a dramatic backdrop for the glass-fronted kitchen display as a cast of dumpling makers create Asian favourites.
The focus of the The Terrace Bistro & Bar – owned by established restaurateur George Rizk – is the corner bar that opens onto Commercial Rd. Recycled timbers, polished floors, custom lighting and varying textures, colours and materials all combine to create a warm ambience in The Terrace from morning through to late evening.
The Cullen also features a fully equipped roof-top gymnasium staffed by former Hawthorn football stars, Shane Crawford and Ben Dixon who offer guests personal one-on-one training.
Marketing and promotion of the new Cullen Hotel was done by brand communications and design specialists, Universal Favourite.
Dave Baskind from Universal Favourite said, "The Art Series Hotel Group has taken a very Cullen-esque approach to promoting their first hotel, engaging boutique brand agency Universal Favourite to get the message out there with an innovative word-of-mouth marketing strategy and punchy, bold collateral."

Luxury Art Focused Accommodation Group
The $300 million dollar Art Series Hotel Group is the brain child of property developer, Will Deague. Inspired by the Deague family's extensive travel through Europe combined with their love of Australian art, the Art Series Hotel group is providing guests with a unique visual experience whilst successfully blending boutique style and luxury comfort to create an unmissable hotel experience.
Each hotel will occupy central sites across Melbourne, with each artist linked to a location corresponding to their style. The Cullen was matched to busy, alternative Prahran while the next hotel to open, The Olsen, is located in South Yarra and The Blackman on St Kilda road.
Due to open in March 2010, the $90 million dollar Olsen Hotel celebrates Australia's greatest living painter, Dr John Olsen famous for his paintings, water colours and etchings of the Australian landscape especially his work depicting central Australia and Lake Eyre.
Are you interested in lifting your industry profile?
Email [email protected] or call (07) 5440 5322