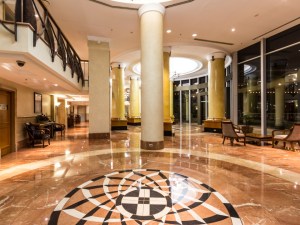 "When we buy a management rights it needs to be both a solid business as well as a fantastic place to live.
"Admiralty Quays is just that—it is a great performing business and the lifestyle in the central Brisbane city is great," agreed Trina and Gary Willis, onsite managers since December 2010. "We are shareholders in the management rights' partnership and as our other partners have a lot of experience in management rights, they provide us with their support when needed," said Trina.
Located on the waterfront with stunning views of the Brisbane River, CBD, Story Bridge and Kangaroo point, Admiralty Quays has 173 apartments on 31 levels of riverside luxury. Gary and Trina manage 95 of these.
With a mix of one-, two- and three-bedroom apartments, three-bedroom with study, four-bedroom sub-penthouses and two prestige penthouses, Admiralty Quays offers residents unrivalled recreational facilities all situated around a landscaped podium deck and resort style facilities including a heated pool, gym, spa, sauna and barbeque.
Before they were in the hospitality industry Gary was a police commissioner in South Africa managing 100 staff and Trina was in human resources for Shell Oil for more than 16 years. They met in New Zealand. Trina took early retirement and they moved to Australia and took up management rights.
"Neither of us had been in this sort of business before until 2007 when we moved to Australia and we learnt about management rights. Initially it was just a business idea. At the time we did not know how well we would be suited to it," continued Gary.
"We managed a complex in south west Brisbane first, which we enjoyed and the body corporate committee was really good to work with," said Trina
After the Willis's moved in to Admiralty Quays, the January floods hit Brisbane.
"That was a challenging time for us being right on the river," said Gary. "There was a wonderful sense of community where everyone helped their neighbours. In the office Trina received numerous phone calls from concerned residents and owners," said Gary.
"Together with her team, she ensured that every last car was out of the carpark before the water came in."
Gary was one of the recipients of the Brisbane City Council Community Hero Awards for his work in ensuring that the power stayed on in the building and the lifts were back in action within three days, even though this meant he had to climb down the lift shaft and bucket out the water by hand.
"I think it goes without saying that we took over at a really difficult time just before the Brisbane floods and we were involved in ensuring the care and safety of all our residents," Trina said.
Between them, Gary and Trina have a wealth of life experiences and expertise.
"Gary has a lot of experience in dealing with people and managing staff. The lessons and communication skills you learn is what makes you a good manager," Trina continued.
"I have a diploma in accounting as well as a full real estate licence — Gary also has a real estate licence — and I have a wide range of experience in managing staff, marketing and all aspects of property management. My father owned a bed and breakfast and was the longest serving leasee in the history of Lion Breweries in New Zealand," said Trina.
"Admiralty Quays was built as a five-star building and we maintain it with service to the same high standard. Everyone who lives here is proud of the place," Gary confirmed. "Our specialist market is the corporate clientele. At the moment there is a resource boom going on and we are able to provide accommodation to the high level employees of these companies. Other than that we have a variety of clients who are mostly upmarket professionals."
There are superb quality finishes throughout all apartments with marble and granite bathrooms, kitchens, and marble entries in all apartments. Added luxurious touches include the five-star foyer and mezzanine, with a comfortable lobby and reading room.
Admiralty Quays has received the following awards: UDIA Queensland award for Best High-Rise Residential Development; The prestigious Rider Hunt National Award, which is Australia's foremost property prize recognising excellence in property development; a Master Builders Association award.
"Being in the CBD of a capital city is great. We have a range of businesses and suppliers to work with right here in the city.
"Our seven team members have expertise in various skills and come from a variety of cultures and backgrounds," said Trina. "We enjoy our diversity and multiculturalism as it allows us to provide excellent customer service. We celebrate events, birthdays and our achievements together."
Ending on an interesting note, Trina and Gary are currently planning their wedding at Admiralty Quays — in the marble foyer — at the end of this year. The name Willis is from one of Trina's prominent ancestors, Richard Willis (1777 – 1855). His house still stands and in use 176 years later. The barn and Wanstead Park in Tasmania are known as the oldest earth buildings standing in Australia.
Are you interested in lifting your industry profile?
Email [email protected] or call (07) 5440 5322