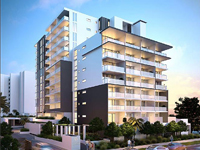 The Heran Group is to build a $108 million multi-tower project, Coast, near the Broadwater in Labrador.
Group development manager Tim Kelly said the time was now right for the project to move ahead, based on sales rates for similar projects.
The Coast development has three stages – west, east and north towers – and will have a total of 296 apartments when complete.
The west tower, with 124 units, is being sold first and has a combination of one-bedroom, one-bedroom plus study and two-bedroom units.
The Heran Group is also likely to next develop land it owns at Tweed Heads, which is known as the Border Ford property, and has been approved for three towers. Mr Kelly said the company was keeping its eye on the Tweed market and it was likely work would start on the project next year.