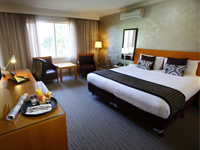 Choice Hotels Australasia has started the year with an aggressive acquisition strategy as it partners with seven new hotel properties across Australia.
The move again increases Choice Hotels ever-expanding regional accommodation offering, with new properties secured across New South Wales, Victoria and Western Australia.
The additions form part of the group's plans to increase its hotel room inventory this year within the mid market accommodation sector by more than 10% in response to ever increasing demand for hotel rooms across the country.
The most recent quarterly National Visitor Survey for December 2012 released by Tourism Research Australia last week revealed that overnight trips taken in Australia by Australian residents, had increased 4% year-on-year to 74.5 million trips. With Australians
looking to travel and explore their country with more regularity, Choice's continued focus of adding more high quality properties in regional locations has them well placed to take advantage of the increased demand.
Commenting on the new additions and its expansion plans for 2013, Trent Fraser, Choice's chief executive officer said, "The group is delighted to welcome the seven new properties. It's a move that reflects Choice's desire to significantly grow and expand its regional mid market sector offerings in order to benefit from the increased consumer demand for high quality, affordable accommodation currently being experienced by the industry.
In New South Wales, Choice Hotels now boasts four valuable additions to its stable. The 4 star Comfort Inn Bushman's Parkes is an ideal base from which to explore The Dish at the nearby Parkes Observatory and features excellent conference and event facilities. Similarly, the soon-to-be-online four star Quality Suites Boulevard on Beaumont in Newcastle offers impressive conference facilities with its Rialto function rooms while also providing 32 spacious self contained rooms.
The budget conscious leisure or corporate traveller will be suitably impressed by the 3 star Econo Lodge Grafton offering free wifi and access to the indoor pool and spa facilities, while Lismore's 3½ star Comfort Inn Centrepoint provides visitors with outstanding facilities and services to ensure a comfortable stay.
Expanding its Victorian offering, Choice Hotels has two new additions.
In the 'city by the bay' Geelong, the 4 star Quality Inn & Suites Bayside joins the group. Located opposite Corio Bay, where guests can enjoy stunning views or take leisurely strolls along the impressive Corio Bay foreshore, it's the perfect place for that midweek or weekend getaway. Rounding off the offering is the newly refurbished 3½ star Econo Lodge Statesman Ararat.
The final property to join the Choice Hotels portfolio is the Western Australian situated Quality Inn Margaret River. Surrounded by beautiful gardens and native bush land, this 4 star hotel is the ideal place to relax, unwind and enjoy the spectacular vineyards of Margaret River.
Image: The 4 star Quality Inn & Suites Bayside, Geelong