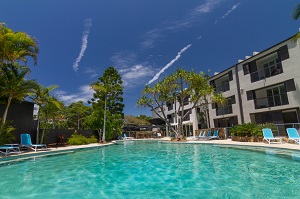 Profiles
Love people, love style, love Noosa Blue
Set on a hilltop crest above the captivating Noosa Heads, is Mexican inspired resort Noosa Blue. Liam Kennedy is the new general manager of this completely unique and stylish property.
He told us: "The resort is built with inspiration from Mexico's most revered architect, Ricardo Legorreta and his philosophy, 'Earth and sky. Light and colour.'."
The resort has stunning Noosa hinterland and coastal views; it is in a prime location within walking distance of iconic Hasting Street. The 65 airy and modern one-bedroom self-contained suites offer free wifi and flat-screen TVs, as well as living rooms, kitchenettes, and balconies or terraces. The superbly upgraded penthouse suites have rooftop terraces with hot tubs and BBQs.
"There is definitely only one Noosa Blue," Liam declared. "The developer and the architect deserves a lot of credit for producing such a wonderful building. The resort has a fantastic atmosphere and we just seem to have a knack of attracting delightful people to stay here. We are close to everything, so it is both comfortable and convenient."
Liam started out cleaning pools for Russell Leary, who owns the management rights at Noosa Blue, over 10 years ago. He went on to work at Mantra Group, seeing the maintenance position as just a temporary job to put himself through university but he found that he "really enjoyed the resort industry".
With Mantra he was given the opportunity to complete training and leadership programs and his casual job became a career. "Along with my university studies and on the job experience, I developed significant industry skills. Mantra promotes rigid process and policy, a fastidiousness that I thought was a bore at the time but now, as a general manager I definitely see the value in being less easy going," Liam said.
Liam and Russell work well as a team at Noosa Blue. Liam revealed: "Russ is a bit of an industry legend and has wise, old-school and instinctive ways of doing things and with my fresh approach and knowledge of correct procedure we balance each other out and believe it or not, it works really well. We operate differently but we have the same passion and ideals.
"I understand that Russ has probably forgotten more about the industry than I know so I listen and pick up on things he says and does. He is all about moving forward and this inspires me. We have days where we disagree about things but always take time to have a quiet beer and a yarn after we close."
The priority at Noosa Blue is for customer service to be celebrated for its excellence. "The entire team understand what memorable service is all about. The Noosa Blue motto is 'our guests are our top priority' and we live by that" Liam announced. And, consistent feedback from guests note that the team here, go above and beyond."
This business is very much a family owned and operated concern and guests enjoy this vibe. Liam and his wife, Adelle met while working for Russell and Belinda over 10 years ago at a resort in Marcoola on the Sunshine coast, where the onsite managers were Lynda and Jason (who are also business partners and the onsite managers of Noosa Lakes).
Liam said: "We became really good friends with Lynda and Jason, we always stayed in contact, often catching up in Tassie where they owned a motel. Out of the three couples now involved in our business I am the only one not from Tassie so sometimes I have to speak nice and slow for the others, but joking aside it is a great dynamic and we all get along well!"
The management rights for Noosa Blue was purchased in July 2015 Liam said: "We umm'ed and ahh'ed about the purchase of Noosa Blue for months to the extent that it got confusing and we laugh about it now. We could see that there was a great deal of work we would need to commit to, in order to return Noosa Blue to its former glory. In the end Russell decided to sign the contract for the management rights and I am glad he did. We haven't looked back since."
Noosa Blue is so special because along with Noosa Lakes it is run by this dedicated group of friends. "The six of us are close, we all have growing families and so we are committed to the long term development of our business. We all work hard and long hours to get both Noosa Blue and Noosa Lakes to where they now are," added Liam.
Liam and Adelle have four young children and making time for them is a great way to relieve the stress that comes with managing a resort. Liam said: "We just cherish time spent with the family it doesn't really matter what we are doing: a swim, kicking the footy or just making the most of the location. Noosa is such a great environment to raise a young family."
A huge advantage of working as a team with the other two couples is that all their industry experience is pooled. "All bases are covered: Adelle covers accounts and front office, Jason maintenance and operations, Russell and Belinda cover purchase and sales, Lynda front office, marketing, wholesalers and I cover, owner relations, body corp, marketing, general ops," he advised.
Liam has learnt from being involved with the purchase of both resorts. He said: "To see everything involved from start to finish is a real eye opener. From original discussion, through due diligence, legalities, banks and finance. Then to start fresh with owners and body corporate in a building that required a lot of work to reach its potential."
So what does Noosa Blue do best? Liam replied: "Most resorts probably claim it but I believe our service is fantastic because we genuinely want our guests to enjoy their time here, get value for their hard earned and want to return. I find it comes very easily to give great service.
"Russ and I encourage the team to do what is needed to ensure everyone is happy. The open and honest approach we have to communication also works for our owners and body corp. We are in constant contact with our owners, using newsletters, emails and phone calls. Owners put a lot of trust in us to look after their asset and help it reach its potential."
"Without getting all political I would also like to state that there is a very real issue of resorts being overrun by permanent residents and owner occupiers. If this trend continues to take beds away from potential holiday makers it could have a very concerning effect on every business dependant on the tourism dollar.
"With more people moving into resorts each year due to the price and convenience it offers, measures need to be made to stem this before it is too late. Thousands of room nights are being lost and this means less people in Noosa spending money. At Noosa Blue we a quite vigilant as managers and do everything within our power to keep it a holiday resort."
On a personal note Liam added that his reward is "the people". He proclaimed: "Everyone is fantastic, from the guests, owners, staff and contractors to other local operators. The friendship of my partners and having ownership really drives me to better things. Every day has different challenges which keeps things interesting. Best of all: we are building a promising future for our kids which makes all the hard work and long hours' worthwhile."
Liam concluded: "We still have a lot of work, to get Noosa Blue to the heights that we foresee, but our biggest achievement is getting it to where it is now. It needed a lot of love. My advice is to work hard and enjoy life, you're a long time in the ground. Don't sweat the little things just look forward and don't hold a grudge."