Profiles
Quest Rockhampton: New and full of promise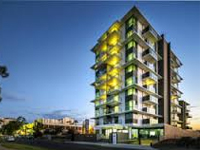 The brand new and very stylish Quest Rockhampton opened on 2 September, 2013 and features 73 brand new studio, one and two bedroom serviced apartments. Centrally located in the Rockhampton CBD, it overlooks the beautiful Fitzroy River.
Rockhampton easily lends itself to all year round tourism with an abundance of outdoor activities and popular attractions that include: Riverbank Parklands on the banks of Fitzroy River, the Capricorn Coast, Yeppoon, Emu Park and Great Keppel Island, which is a large island off the Capricorn Coast that largely consists of national park.
This is a smart, purpose built property offering spacious and well-equipped serviced apartments with a kitchen, laundry facilities, a separate living/dining area, broadband Internet access and balconies with river views from certain rooms. The property also features an on-site reception, on-site gym and a conference room for added convenience.
It is positioned on Victoria Parade, very close to the business and restaurant precincts. Quest Rockhampton suits both business and leisure travelers whether travelling for a night, a week or even longer.
Like the majority of Quest's properties, Quest Rockhampton is owned and operated by dedicated franchisees. In this case, Graham Archer and Mandy Fallon are at the helm taking great pride in welcoming their guests to Quest Rockhampton. Nine times out of ten, when guests visit it will be Graham or Mandy who will be the person who checks them in and recommends the best places to eat around the town they both now know and love so well.
It is this personalised service that (like all Quest franchisees) Graham and Mandy take the most pride in. It is the up close and personal customer service along with the stunning new accommodation and the careful close attention they give to their guests – making sure they have everything they need for a comfortable stay – that separates Quest Rockhampton from the rest.


Graham and Mandy were offered the opportunity to become franchisees at the latest Quest serviced apartment property in the laid back regional town of Rockhampton in Queensland. They would like to attribute their decision making ease, when accepting this offer, to the promise of the fabulous central Queensland coastal lifestyle and the never-ending sunshine that this beautiful location offers. Rockhampton reportedly experiences over 300 days of sunshine a year!
But there were also plenty of other more practical factors involved. As Graham explained: "We decided to look at investing in a Quest franchise because Mandy's sister and brother-in-law own two Quest franchises in Brisbane and we had seen first hand how successful and rewarding a Quest franchise could be if you were prepared to work for it."
Married for 13 years, Graham and Mandy have two sons; Alex who is six and nine-year-old Will.
For the majority of their life together they have lived in the inner Brisbane suburb of New Farm. They both had city-based careers working for the Queensland government. Now they have not only taken this opportunity to relax into the laid back Rockhampton lifestyle by investing in Quest Rockhampton, but they also intend to make the move a financial success.
They are very excited to be able to fully embrace the hard but rewarding work that goes along with being a Quest franchisee.
For over 25 years, Quest serviced apartments has developed and honed a proven structure and formula to support franchisees in successfully running their business. Graham and Mandy are the latest Quest franchisees to confidently take the plunge and are happy to give advice to anyone looking to make such a move. "Spend a little time in the location and have a good look around before making a decision," Graham advises newcomers. "It has been very rewarding for us and we are really enjoying the lifestyle and looking forward to growing the business."
So far so good for Graham and Mandy! The newly opened resort is already highly recommended on TripAdviser, with one review claiming: "The room was brand new with a kitchenette. Microwave, hot plates and a coffee maker (supplied free with Italian coffee)." It is a given that this is only the start of many fabulous reviews for the hard working young couple. Life is looking very positive for Graham and Mandy at the moment. They are happy with their move and have completely embraced all the challenges, trials and tribulations that come with being a franchisee. As any hotel manager will attest, this is not your typical nine to five job at all! But it comes with a unique set of rewards.
According to Graham, "We haven't looked back since making the move and would recommend it to anyone looking for a change and a new challenge; we would say go for it!" Almost anyone can become a Quest franchisee. Graham and Mandy have proven that you don't need to have a background in hospitality, you just be up for a challenge and possess a strong desire to run your own business. If you take the first step, like they were willing to do, you may find that you have more control over your future than you ever thought possible. At Quest Rockhampton, Graham and Mandy have launched into a very exciting new adventure.
With the support and guidance of other franchisees and through the sheer determination and hard work they have already displayed, this family is poised to achieve huge success as they reap the rewards that come with pleasing your guests.