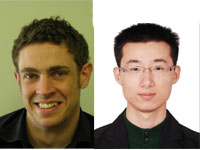 There has been two new staff appointments at Brisbane-based software development company InTouch Data.
Clayton Vickery has been named senior developer. Clayton began an impressive seven year stint with small software company Corskill Australia, working his way up from junior developer to key developer within the organisation. Clayton's new role within ITD will focus on the development of its suite of data manipulation tools and the updating of its account converge product.
James Li is ITD's latest developer. James worked for one of the world's most influential computer software companies, IBM before movingto Australia and working as a database developer for BMD Transcity Brisbane. In the new role, James will initially be responsible for documenting all of ITD's applications.