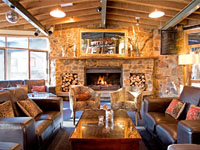 Mantra Group has announced further expansion to its network of boutique Peppers Retreats and Lodges in Australia with the addition of Rundells Alpine Lodge in Victoria's Mt Hotham ski fields.
To be known as Peppers Rundells Alpine Lodge, it will be the first Peppers property to be located in an Australian ski region.
This is the second acquisition for the Peppers brand in Australia this year following the addition of the iconic Peppers Cradle Mountain Lodge to the network in March.
Rundells Lodge enjoys a history that dates back to 1904, ironically in the newest village in Australia – Dinner Plain – which was established in 1986. The lodge that exists today, however, was rebuilt some 23 years ago after the original was razed to the ground in a fire in 1928 and relocated closer to town, 10km from where Charles Edwin Rundell built his original lodge to capitalise on the passing trade of the coach service between Bright and Omeo. Current owners Marg, Gary and Fiona Battershill reinstated the name Rundells Alpine Lodge when they purchased it in 2007, ensuring the pioneering Rundell legacy lives on.
Like the original lodge, Rundells is a family run business offering a first class dining room – Graze Restaurant – and superb accommodation hosting both leisure and business travellers as they pass through the high country.