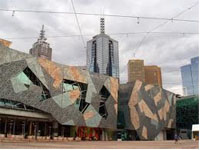 Victoria's minister for tourism and major events, Louise Asher, has announced regional Victoria would be showcased at Federation Square over the next year, with a series of tourism videos on Victoria's regions being shown on the public screens at the high-traffic location.
The new $40,000 partnership between the Victorian coalition government and Federation Square will show off Victoria's towns, villages and regions on the Big Screen and The Atrium four times a day over the next year. The initiative begins on July 1 and the videos will focus on a different Tourism Victoria campaign region each month.
According to Tourism Research Australia, Federation Square received more than 2.2 million visitors last year, making it the most visited attraction in Melbourne.
"This presents a fantastic opportunity to connect with interstate and international visitors and increase awareness of regional Victorian destinations," Ms Asher said. "By broadcasting our strong regional tourism branding daily to commuters and crowds in Melbourne's CBD we will be ensuring that regional Victoria is at the forefront of holiday makers' minds, and reinforcing that many of our regional destinations are just a short distance away."
The announcement follows the release of a new 'Inspired by Gippsland' ambassador video and a series of new Great Ocean Road videos that will be broadcast for the first time at Federation Square.
"Whether it's cultural and sporting events, delectable food and wine or spectacular nature-based assets, the Federation Square screenings will be a year-long reminder of the enviable lifestyle and identity of regional Victoria," Ms Asher said.