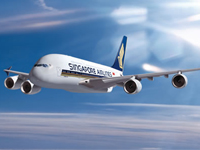 Singapore Airlines has plans to boost flights from Australia to 112 a week – up from its present number of 102 – by the end of this year.
Singapore serves Sydney, Adelaide, Perth, Brisbane and Melbourne while its regional offshoot, SilkAir, began flying to Darwin in March.
Regional vice-president Subhas Menon hinted that the bulk of its increases in capacity worldwide this year would be on routes to Australia and China. He said this was due to the strengths of their economies and high demand for premium travel.
Mr Menon said much of Singapore Airlines' expansion into Australia this year would be into Perth and Brisbane, and it would increase flights to Adelaide from seven a week to 10 from July 2. It also wants to use more A380s into Sydney and Melbourne.