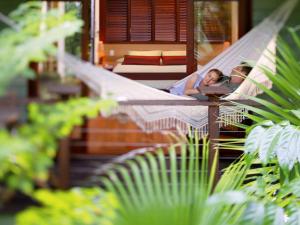 One of the Daintree's original eco-lodges, Silky Oaks Lodge on the Mossman River, has completed a two-year renovation program that includes two high-level suites that will fetch almost $1000 a night.
Silky Oaks Lodge owner Paul van Min said, the suites marked the completion of a $3 million two-year refurbishment program and the demand has been so great he would build two more at the end of the year. He said the new guest suites were an "indulgent addition" to the resort's deluxe tree houses and river houses.
He said the specifically designed stand-alone suites featured custom-designed furniture made from local sustainable timbers, open-plan living areas, Bose sound system, a complimentary mini bar, a library and a large full-length private balcony complete with a hammock and a day bed overlooking the rapids of the rainforest's river.
Silky Oaks Lodge is one hour drive north of Cairns.