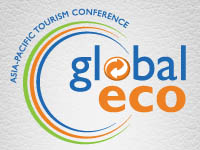 Tourism and sustainability leaders from Australia and across the globe are getting prepared to meet in Cairns, Queensland from 15-17 October for Ecotourism Australia's Global Eco Asia-Pacific Tourism Conference.
Over three-days attendees will be given the unique opportunity to learn from some of the world's most successful tourism organisations and identities. They include:
Bruce Poon Tip is founder of giant adventure company G Adventures. Under Bruce's guidance, G Adventures has grown to become a world leader in adventure travel, with offices around the world, offering experiences in 100 countries worldwide to more than 100,000 travellers annually.
Passionate about sustainability and philanthropy, Bruce is an authority on social entrepreneurship, 'quintuple bottom line' versus 3BL, corporate social & environmental responsibility, leading with service and innovation
Kristin Holdø Hansen is founder and managing director of the Soria Moria Boutique Hotel in Siem Reap, Cambodia which was recently named as a finalist for the Community Benefit Award at the 2012 WTTC Tourism for Tomorrow Awards.
Kristin's goal in founding the Soria Moria was to facilitate long-term economic development in the impoverished area of Siem Reap, Cambodia. The project empowers locals to develop successful long-term economic opportunities through building educational capacity. Soria Maria's employees are all locals, with majority ownership of the company.
As the founder of the marketing and destination firm ecoism and GreenSpot.travel, Richard Edwards advises companies and destinations on how to take a more practical and cost-effective approach to marketing, while focusing on social and environmental responsibility.
A wide-ranging career in the adventure travel industry, Richard was most recently director of marketing & eCommerce at G Adventures and first director of Planeterra, the global organisation dedicated to sustainable community development.
David Wilks, director of the Commercial Business Unit, Department of Conservation New Zealand, came from Tourism New Zealand where he was their GM tourism development responsible for destination management support for New Zealand's 100% Pure marketing message.
David White is manager of the sustainability and climate change department at Virgin Australia. David worked on climate change issues in government and industry for ten years prior to joining the airline in 2005 and is currently overseeing a new sustainability framework as well as leading the renewable aviation fuel team. The team supports Sir Richard Branson's climate change initiatives being implemented across the globe.
David is passionate about the importance of sustainable practises and lowering emissions for not only the environment but for profitability of companies into the future.