Developments
Insurance office to be Adelaide's next great hotel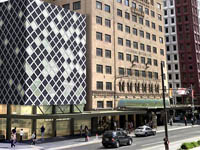 Conversion of Adelaide's heritage-listed Colonial Mutual Life building into a luxury boutique hotel is about to start.
Watpac Construction is to transform the 1930s building, on the corner of King William and Hindley streets into a170-suite, $35 million Mayfair Hotel that will feature a bar and restaurant and large retail area.
The new hotel has been designed by JPE Design Studio and Bates Smart for owners Adabco Properties that also own the Adabco Boutique Hotel on Wakefield St and construction will begin in September.
Watpac state manager Tim Tape said, "We're delighted to be selected as the preferred head contractor to deliver such a fabulous project and to help contribute to Adelaide's inner-city precinct."
The new hotel, designed by JPE Design Studio and Bates Smart, will feature a lightweight steel and glass "jewel box" on its southern side.
Hotel owner and operator, Adabco Properties, runs the Adabco Boutique Hotel on Wakefield St, and has previously undertaken office developments including the Wave and Edge developments on King William St.
Work on its latest project will commence in September.
"We selected Watpac for this redevelopment because they're an experienced contractor with a track-record for building quality developments, and they clearly have the right people and attitude to deliver this important project for us," the developer said.