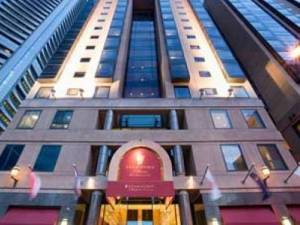 Stamford Plaza Melbourne has just completed a $12 million refurbishment of its 283 rooms and lobby.
After an 18-month staged refurbishment, Stamford Plaza Melbourne now "exudes an impressive transformation featuring all Australian-made furnishing, with accents of European finesse, which suits the vogue of the Paris-end of Little Collins Street", according to general manager, Karl Unterfrauner.
"Stamford Plaza's multi-million overhaul allowed us the opportunity to implement environmental initiatives with energy-efficient lighting and water-saving devices throughout the hotel. Sensors have been installed in all suites for both lighting and air-conditioning; turning itself on when a guest steps into the room, an initiative undertaken to reduce our energy consumption," Mr Unterfrauner says.