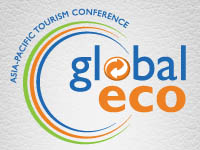 Events
Global Eco welcomes founder of G Adventures!
Bruce Poon Tip, founder of adventure travel giant G Adventures has confirmed his attendance for the upcoming Global Eco Asia-Pacific Tourism Conference in Cairns (15-17 October).
Bruce is back in Australia at Global Eco for his second appearance and many delegates will remember his challenging message about the current state of tourism and his entrepreneurial vision for the future of the tourism industry both in Australia and overseas. Bruce provides unsurpassed knowledge about sustainable and responsible tourism and single-handedly founded G Adventures in 1990 which has now grown to become a world leader in adventure travel.
G Adventures offers small group experiences in over 100 countries worldwide to more than 100,000 travellers annually.
Bruce Poon Tip will address delegates on Day One of the Global Eco Conference, 15 October. Delegates can expect an address that will challenge their current thinking and help shape and inspire a new vision of the future of their tourism business.