Developments
Quest launches first Studio apartment properties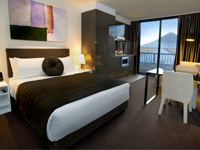 Quest Serviced Apartments has unveiled its first dedicated Quest Studios apartments in Melbourne and Sydney.
The first five Quest Studios properties offers guests a hotel style room with the facilities and flexibility of an apartment, including a kitchenette, dedicated work area and complimentary WiFi.
The sub-brand was developed as a response to customer research that revealed that extended-stay corporate travellers value absolute flexibility.
Quest Serviced Apartments chairman Paul Constantinou said there is no "one size fits all" when it comes to the optimum environment for corporate travellers who often spend weeks or months away from home.
"Whilst most of our guests still prefer an apartment with a separate bedroom and living area, we wanted to provide a dedicated offering to those who would rather stay in a hotel-style room – but who don't want to sacrifice all of the other apartment facilities," he said.
"We also recognise corporate travellers are using multiple online devices for work and during downtime, which is why we have equipped all Quest Studios with complimentary WIFI, an iPod/iPad dock and a multi-device charger," Mr Constantionou said.
The five dedicated Quest Studios properties are located at Bondi Junction in Sydney and in Melbourne at Brighton, East Melbourne, Kew and Hawthorn. The sixth property in the Quest Studios portfolio, Frankston Central Studios is expected to be completed in early 2013.
In the next four months alone, Quest will open properties in Bundoora (Vic), Whyalla (SA), Sydney Olympic Park (NSW), Albion (QLD), Tauranga (NZ) and Rotorua Central (NZ).