Events
Quest wins Best Accommodation at Mackay awards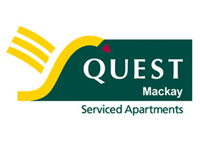 Last week, Quest Mackay was awarded Best Accommodation in the Mackay and Isaac Region at the Mackay and Isaac Tourism Awards held at Nebo's Undercover Arena.
Quest Mackay franchisees Russell and Elise Spurrell were delighted to receive the award, citing the strength of their team as integral to Quest Mackay's success. "We are extremely happy to receive this award, it is testament to our hard working team who treat this property as their own and constantly provide excellent service to our guests," Russell said.
It has been an excellent twelve months for the property. Last year, Quest Mackay was the recipient of the runner up award and won the Best in Business and Best Accommodation in the Mackay Region from the Mackay Chamber of Commerce.