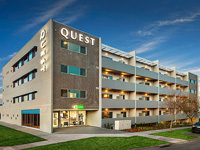 Developments
Quest opens in Melbourne's growing northern corridor
Quest Serviced Apartments welcomes the latest property to the network, Quest Bundoora.
The $15 million, 4½-star property is located in the heart of Melbourne's rapidly growing northern corridor. Ky O'Shea, franchisee of Quest Bundoora says the new property will cater to the strong corporate demand for local accommodation.
Quest Bundoora offers 71 studio, one, two and three bedroom serviced apartments. Each apartment is fully equipped with a kitchen, laundry, Foxtel, LCD TV and wifi. Guests have access to conference facilities and Quest services such as pantry shopping, dry cleaning, BBQ area, restaurant charge-back, baby-sitting booking and business administration.
Paul Constantinou, chairman Quest Serviced Apartments, said, "Quest Serviced Apartments is committed to meeting the demands of its customers and seeking out growth corridors, particularly in regional and suburban Australia, where quality accommodation is highly sought. Bundoora is definitely one of those areas. There is still a gap between supply and demand and the industry is experiencing continued pressure, particularly in regional and suburban towns that are undergoing rapid growth as a result of major projects and new developments."
Mark and Ky O'Shea are the franchisees of the new Quest Bundoora. Seven years ago Ky and Mark both worked as property managers for Quest Serviced Apartments head office. In 2009, after two years working on Quest Knox Serviced Apartments, the two bought the franchise. The success of this venture has led them to return to Ky's home ground of Bundoora to continue the journey.