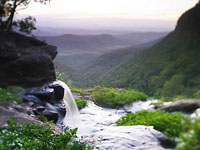 A 100-room residential conference centre has been proposed for the Gold Coast hinterland around Mudgeeraba.
Proposed by councillor Glenn Tozer, the conference centre is one of three projects seen as priorities for the hinterland.
Cr Tozer said the envisaged centre would be similar to the Questacon in Canberra and feature a science and technology-themed tourist attraction.
Land at Hinterland Regional Park has been earmarked for a proposed equestrian centre, a project which already has support of horse and polo groups across the Gold Coast.
Chamber of Commerce president, John Forrester said, "we could certainly do with some accommodation in the area. "It is something we are lacking."