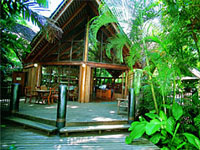 The Ferntree Rainforest Lodge and Hostel in Cape Tribulation is to close down at the end of November unless the property is sold before then.
Ocean Hotels and Tourism marketing manager Carol Fitzgerald said, "After careful consideration and a thorough investigation into the continued viability of this business, a difficult commercial decision has been taken by the board of directors to close the property. The ongoing decline in overnight visitation to the region has, unfortunately, resulted in unsustainable losses."
The 120-room luxury eco-resort was acquired by Ocean in 2007 along with Coconut Beach Resort that was closed last year.