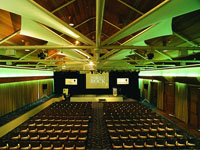 Voyages Indigenous Tourism Australia has announced the appointment of Dreamedia Events to provide in-house audio-visual services and full event production at the new Uluru Meeting Place meeting and conference facility at Ayers Rock Resort.
The Uluru Meeting Place will be officially opened on 16 November.
Dreamedia Events, based in Darwin, has 25 years experience in producing a wide range of events. Expert technical support is provided in the field of audio, vision, lighting, theming, exhibitions, styling, graphic design, filming and photography.
"We chose to partner with Dreamedia Events due to their experience in successfully producing innovative events as well as their reputation in ensuring all areas of the technical side of a conference were managed in a professional and issue-free way," said Voyages managing director, Koos Klein.
"We know that when conference organisers choose to hold their event at the Uluru Meeting Place they not only want a spectacular location and unique itinerary but also want an innovative and stress-free event. Dreamedia Event's expertise in this area in combination with the expertise of the team at Ayers Rock Resort will provide that," Mr Koos said.
With the first conference in the new facilities in-house from end October, the new Uluru Meeting Place features striking contemporary interiors that reflect the Indigenous heritage of the location. Facilities include a new ballroom that comfortably seats 420 people that can also be sub-divided via acoustically rated walls into separate smaller meeting spaces and also a second ballroom seating 300 that can also be split to create an integrated conference area. When combined these two rooms create a large area that is ideal for events and trade shows.