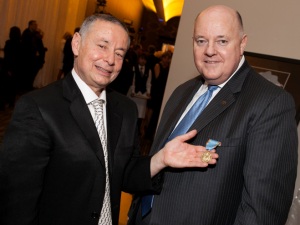 Sofitel Melbourne On Collins' general manager, Clive Scott (pictured), was honoured to be presented with the Gold Tourism Medal by ATOUT France's regional manager, Patrick Benhamou, at an Elegant French Soiree held at the hotel recently.
The Tourism Medal was created in 1989 to reward people who, through their voluntary or professional contribution as well as through the length and quality of service given, have productively contributed to tourism development in France and overseas.
The medal is awarded twice a year and Clive Scott is the only person in Australia to receive this honour. On presenting the medal, Patrick Benhamou said, "On behalf of Sylvia Pinel, French minister of tourism, I am delighted to give the Gold Tourism Medal to Clive Scott, General Manager of Sofitel Melbourne On Collins, to honour and thank him for being a true ambassador and spokesman of the French Art de Vivre.
For the past 20 years, Clive has contributed to the success of our French events in Australia, he delivers what he promises, with talent, precision, and above all with passion and enthusiasm."
Clive has worked in the hotel industry for more than 30 years of which the last 10 have been managing Sofitel's in both Sydney and Melbourne.