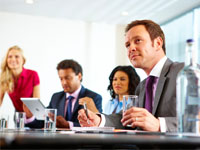 InterContinental Hotels Group has launched a new meetings and events booking tool across 23 of its Australian and New Zealand properties, giving meeting attendees a seamless way to book their hotel rooms and planners a more efficient process to work with IHG hotels.
The industry-leading GroupMAX reservations technology, developed by USA-based Passkey, allows hotels, event planners and delegates to fully automate their group reservations process – offering more convenience, greater economic value and a more streamlined meetings process for all parties.
Hosted entirely online, GroupMAX is designed for use by any standard web browser or smartphone. It is also equipped to handle various unique business needs including multiple types of events and attendees as well as a wide range of booking methods, payment types, languages and currencies.
Anne Gill, IHG director, commercial, Australasia, said IHG recognised the role technology plays in hotel service delivery – especially with regard to IHG's MICE clientele. Ms Gill is confident the new tool will foster tighter relationships between its hotels, clients and guests, and adds its deployment will provide the hotels with actionable insights into their MICE business.
The 23 IHG properties deploying GroupMAX will be equipped with a suite of tools that ensure peace-of-mind and higher levels of service for clients and delegates including:
Online Hotel Booking: Delegates can now look forward to the convenience of web and mobile hotel reservations, and will be able to enjoy a wide range of accommodation and amenity options, on top of the exclusive offers negotiated specifically for the event. Hotel availability and rates are displayed online, helping to encourage more delegates to book within the block, and availability can also be embedded across various social networks, taking "block visibility" to an advanced new level.
Live Event Tracking: Meeting organisers can optimise their room block contracts with a set of online tools including live tracking, accurate reporting and proactive "smart alerts" for delegates. In turn, the real-time tracking helps meeting planners better mitigate financial risks.
Automated Room Lists: MICE organisers will appreciate all delegate data contained in GroupMAX's room list tool is PCI (Payment Card Industry Data) secure – eliminating the risk associated with transferring private financial detail across email. The automated room list tool also enables planners to self-manage any amendments to the booking – removing back and forth between the organiser and hotel.
Increased Pick-up: GroupMAX enables forward-thinking planners to maximise event traction through automated email reminders which act as an early warning system for delegates and in turn, maximise block traction. The pre-emptive tool can detect poor pick-up against historical pace, helping to keep the planner better informed, and potentially negating the need for post event audits.
Professional Email Marketing: The 23 participating IHG hotels are able to leverage GroupMAX's integrated email marketing platform to create new service opportunities which can be communicated to delegates prior to arrival, during the event/conference and after they have departed. The new service opportunities include accommodation upgrades and special food and beverage offers.