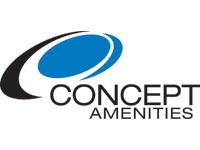 Concept Amenities, a global leader in the supply of environmentally responsible guest bath amenities, recently received the coveted ISO 22716 Good Manufacturing Practices accreditation of its Melbourne production facility.
The certificate issued by the International Organisation for Standardisation is in recognition of the company's manufacturing of skin and hair cleansing products – including hand and body lotion, shampoo, conditioner, bath and shower gel and soap bars – in accordance with specific guidelines that cover the quality aspects of the products.
The ISO is the world's largest developer of voluntary international standards, providing state of the art specifications for products, services and good practices for the purpose of making industry more efficient and effective and breaking down barriers to international trade.
Operations manager Charles Honour said, "To meet the ISO standards, quality assurance manager Beryl Aik documented all necessary standard operating procedures and I provided all necessary training as well as plant and equipment upgrades. Together we facilitated the review and approval process with independent specialist auditors for the accreditation. It was truly a team effort."