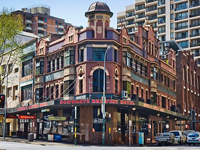 Sydney's Macquarie Hotel has reportedly been acquired by former Icon Hospitality owner Christian Denny for more than $8 million.
Selling agents Adam Spencer-Carr and Sam Handy, of Jones Lang LaSalle, would not confirm the buyer. The owner, former cosmetic surgeon Jerry Schwartz, now owns the Novotel Newcastle and will use the finance from the Macquarie sale to build a brewery in Newcastle.
The Macquarie Hotel in Surry Hills was built in 1888 and run by Dr Schwartz for 15 years as The Schwartz Brewery. The hotel incorporates three bars on four levels, gaming room, 27 boutique accommodation rooms, a rooftop terrace and a microbrewery.
Icon Hospitality collapsed last year owing main lender creditor Commonwealth Bank $60 million and leaving property fund ING Real Estate Entertainment without its major tenant.