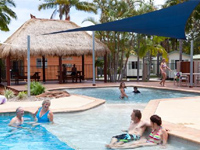 Despite common booking trends in the New Year period, Blue Dolphin Holiday Resort in Yamba has all of its caravan and camping sites booked right through from now, until Australia Day.
Blue Dolphin Manager Jackie Blake says looking forward so far; the traditional Christmas holiday in Yamba looks to be a bumper one.
"Normally there is a spike over the Christmas/New Year break, then and it dies down a little mid-January until the Australia Day public holiday," Ms Blake says. "However this year we're seeing a surge of steady bookings from December all the way through to late January.
"This increased interest in the park over this period of time is very exciting, and it's reassuring us, that Yamba is becoming a go-to destination for the Aussie summer holiday."
Ms Blake says the last school holiday period also saw an increase in bookings compared to same period in the previous year but this upcoming summer season is set to overtake those figures in leaps and bounds.
"During the weeks of the September school holidays we witnessed an increase of 4% from last year's bookings," Ms Blake says. "Any increase is good news, but this December-January season is our strongest in a while and we're confident the increase will be considerable compared to last year. Since 2011 Tourism Australia has been working to encourage Australians to travel domestically to increase the demand for Australia as a destination, and we are now starting to see the 'holiday at home' trend take off."