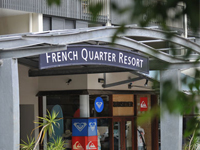 Mantra Group has just signed a further 15 year agreement with the owners of BreakFree French Quarter at Noosa on the Sunshine Coast and, with the group's long-term future secured,
the resort will be rebranded to Mantra French Quarter in early 2013.
Mantra group chief executive officer Bob East said the re-signing demonstrates the confidence the owners have in Mantra Group and the team at the resort.

"The new caretaking and letting agreement until 2028 is a clear indication that BreakFree French Quarter unit owners feel Mantra Group is best placed to manage their investment for the long term," said Mr East. "It is also an acknowledgement of the hard work and commitment the team have invested into the property."
As part of the rebranding process, Mantra Group will be undertaking a series of improvements to the resort including building a brand new Hastings St reception and lobby to maximise its desirable location.
This will be one of many upgrades to the property and will compliment the resort's major refurbishment of one and two bedroom apartments.