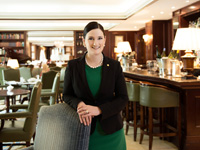 The Langham Hospitality Group is proud to announce the appointment of Sonia Lefevre as the general manager of their recently opened Sydney property – The Langham, Sydney.
A fourteen year veteran of the luxury hotel industry, Sonia has rapidly built a distinguished career in international hospitality management and now leads Hong Kong based Langham's Sydney property, The Langham, Sydney.
Sonia has a strong sales & marketing and rooms division background, having held senior sales & marketing positions in Adelaide, Sydney and Melbourne.
She joins The Langham, Sydney from her post as hotel manager of The Langham, Hong Kong. Sonia successfully repositioned the Hong Kong property from a domestically-oriented entity to an internationally recognised luxury hotel standard, as well as the leading hotel in the busy Kowloon precinct.