News In Brief
2013 = the dawn of a new era for Sydney's Event Showcase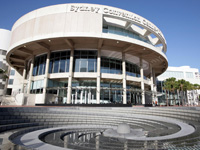 Exhibition and Trade Fairs, owner of Sydney's Event Showcase, has announced the dawn of a new era for the show.
Cementing its role as the leading interactive experience where event professionals can see, hear, touch, taste and smell all the products and services necessary for exceptional events.
Event director, Karen Krieger, has led the development of a refreshed focus for 2013 inclusive of new features, increased networking opportunities and a new marketing and communications strategy which will provide the perfect platform for buyers and sellers to engage.
"Sydney's Event Showcase will uncover the best of what the industry has to offer. This year, we're engaging our visitors and exhibitors via the theme: satisfy your senses. This has been designed to appeal to the personal reasons people get into events; the excitement, the anticipation and the full sensory
stimulation, to drive them to visit and connect with our range of excellent exhibitors," said Ms Krieger.
A new feature to this year's show includes workshops on the show floor, where industry specialists will educate and motivate attendees on everything to do with events such as learning to arrange a stunning table setting, whip up an extraordinary floral piece, see the power of different lighting effects or witness the difference the right food and wine at events can make.
Another new feature for 2013 is Rendezvous at Central. This zone will play host to the inaugural showcase networking lunches. Taking place on both days, these lunches will give exhibitors and visitors another reason to meet, network and talk business.
The Entertainment Showcase will return and display the best in event entertainment available. It will feature bands and orchestras, quartets to comedians, Emcee's, aerial artists – giving visitors the unique chance to see, hear and meet acts.
Sydney's Event Showcase, held at the Sydney Convention and Exhibition Centre is now in its ninth year and will be host to over 200 exhibitors and 5500 decision makers from the special and corporate events world.