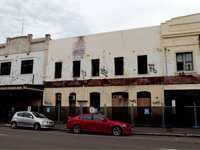 The Empire Hotel site in Newcastle will be placed on the market by Hunter Development Corporation more than two years after buying it for $2.3million on behalf of the state government and demolishing the derelict hotel structure.
HDC general manager Bob Hawes said it would call for expressions of interest, "We've had a number of unsolicited proposals previously and we're hoping we can get attention again."
The site is zoned for mixed use and backs on to the Travelodge Hotel. It was previously given development approval from Newcastle City Council for a $21 million 15-storey residential apartment building. But the owner, Obsidian Holdings, fell into financial strife in 2009.