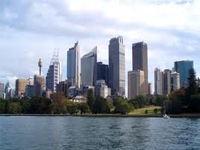 Sydney could soon get its highest residential complex with a 400+ apartment tower planned by the Greenland Group.
Plans have been lodged by the Chinese company for a $600 million 240m high apartment building on the former Sydney Water Board site.
The apartments would be the tallest residential block in Sydney, some 10m higher than Meriton Apartments at World Square.
The Greenland site for the as yet unnamed project is near to Sydney's Chinatown district at Haymarket that Lend Lease is redeveloping as part of the Sydney Convention, Exhibition and Entertainment area. That includes plans for 1400 new apartments and a new 900-room hotel.