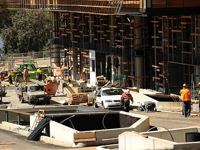 Ply ACT, the building contractor on Canberra's troubled Nishi development for the developer Molonglo Group has entered into voluntary administration.
Projects affected include the $550 million Nishi Complex in New Acton, the Astin Apartments and the Rex Hotel.
Ply ACT director David Murphy said the company would work with the administrator, Alan Hayes, of Hayes Advisory, to return to full capacity the affected construction sites around Canberra.