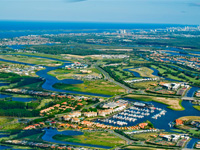 A $100 million residential project on Gold Coast's Hope Island has been proposed by developer Rick Sheida.
Mr Sheida has lodged plans for the 279-unit residential project covering seven buildings, ranging from three to eight levels in height. A cafe and convenience store are also planned and Mr Sheida is keen to build a small marina if he can secure council approval.
The project will be the biggest ever attempted by Mr Sheida, whose most recent Coast project is the $11.5 million mixed-use building Pacifica at Paradise Point.