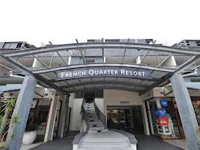 The Mantra French Quarter Noosa has re-opened following an extensive $5 million refurbishment.
Formerly the BreakFree French Quarter, the refurbishment included a much needed Hastings St reception and lobby while the old lobby at the Halse Lane entrance has also completed an extensive upgrade.
Over $3 million has been spent on 68 one- and two-bedroom apartments to upgrade them to a deluxe status with improvements such as new kitchens and appliances, flat screen televisions and all new furniture and fittings.
Over $1 million has also been spent to fully repaint and upgrade the resort's exterior, and to refresh the pool area and gardens.
Noosa's favourite local and Mantra brand ambassador, tennis legend Pat Rafter, said he was pleased to see the finished project. "I was excited to hear that Mantra would be coming to Noosa – I've spent some time at the resorts in North Queensland and down at Kingscliff and look forward to seeing the Mantra name on Hastings St."