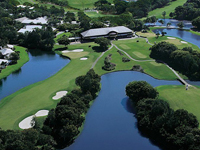 One year after taking over the management rights of one of the Sunshine Coast's most iconic holiday venues, Palmer Coolum Resort has posted a record number of conference and event bookings in a one-week period.
Almost $1.5 million of conference business was confirmed in just four days last week with many more bookings in various stages of completion. The figures have delighted Palmer Coolum Resort's general manager Bill Schoch, who declared the influx of new business a fitting way to celebrate the 12-month anniversary of full ownership.
On top of the recent confirmed business, Mr Schoch said conference enquiries had reached unprecedented levels of late, indicating a rise in confidence in the marketplace.
"We are overjoyed that this adjustment period has been shorter than we anticipated and one year after assuming full control of the resort we've taken nearly $1.5 million worth of conference bookings in less than a week, which is a record for us. This is clearly a sign of confidence in Palmer Coolum Resort as a high-end conference venue and recognition of the outstanding facilities and service afforded to our clients during their stay."
Conference organisers looking to secure a world-class venue for their event now have even more reasons to choose Queensland's Palmer Coolum Resort. From now until the end of June 2013 any conference booked with at least 10 accommodation rooms will receive a whopping 15% discount from their final bill. Depending on the event, that could add up to literally thousands of dollars in savings.
A 5% discount is on offer to local businesses who book a conference or event but do not require accommodation as part of their overall package.
Palmer Coolum Resort is offering 15% commission to agents booking packages directly with the Sunshine Coast property for the month of April.