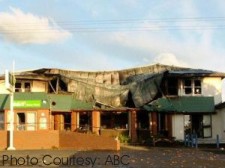 The Dover Hotel, once Australia's southern most hotel, was destroyed by fire on the weekend.
Owner John Postlethwaite said the fire started in the upper storey of the Dover Hotel (built in 1930) and was destroyed.
"We'll look at rebuilding. I can't see anything that's worth keeping. If I can get it pulled down I will and then build a brand new place."
Police are treating the fire as accidental.