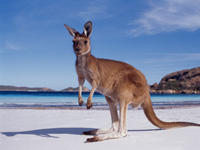 Tourism grew faster than the total of the economy last financial year, contributing over $112 million dollars a day to the Australian economy, outpacing industries such as agriculture, forestry and fishing, construction, and transport, postal and warehousing according to figures released today by the Australian Bureau of Statistics.
Sean Thompson, assistant director of tourism statistics said that: "Tourism GDP grew 5.3% during 2011-12, compared to 4.9% for the economy as a whole. Overall, domestic and international tourism contributed over $112 million a day to the economy".
"Domestic tourism was particularly solid, up 8.3% and showing the strongest growth we've seen since the late nineties. The increase was mostly due to people making more trips; domestic visitor numbers overall were up by 6.6%, driven by a significant increase in day trips – up 8% – while overnight trips grew a smaller but still solid 3.4%," Mr Thompson said.
"Travel by householders was the reason behind two-thirds of the growth in domestic tourism with the remainder being business related; however business trips grew at nearly three times the rate of household travel.
"Despite the high Australian dollar, international tourism also continued to grow; we continued the trend of record numbers of overseas arrivals with nearly six million international visitors – or over 16,000 people per day – making short term visits here during 2011-12.
"The increase was led by gains from China, New Zealand, Indonesia and Taiwan, and the number of Chinese visitors grew at double digit rates for the third year running.
"Australians took advantage of the high dollar by making a record eight million short-term departures, an increase of 8% on the previous financial year.
"This meant that an extra 6000 Australians per day decided to take a trip overseas compared to just three years earlier – back in 2008-09, the Australia dollar was around US$0.75, compared to US$1.03 last year.
"Departures to all of Australia's top ten destinations increased in 2011-12, with Thailand, Indonesia and the United States experiencing the largest increase in Australian visitors," he said.
Overall, tourism employed 531,900 people throughout Australia last financial year, and contributed 8.1% of Australia's total export earnings.