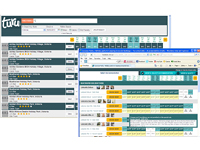 Turu, Australia's premier search engine for caravan and camping accommodation, has released its online booking system.
The launch of the new online booking engine was announced at the national conference of the Caravan RV and Accommodation Industry of Australia on the Gold Coast. The system has been deployed after a three-month trial phase that provided valuable feedback from consumers, holiday parks and industry stakeholders alike to optimise the user experience.
Turu.com.au general manager, Robert Gallagher, said Turu now provided a booking channel for all holiday parks, even those that did not have their own booking system. "This is a key part of our plan to help holiday parks reach bigger audiences – and new audiences.
"Our rate comparison grid – similar to those used on popular hotel booking sites – is the first dedicated, aggregated view of Australian holiday parks pricing and availability. The booking engine is built by Biko Technologies who have built solutions for major retail travel websites as well as Netroomz, used by leading holiday park brands and management groups."
Turu.com.au lists almost 1800 holiday parks around Australia and just over 100 of them have signed up to be part of the launch group for the online booking system.
Mr Gallagher said, "Far fewer holiday park bookings are made online than for other tourism sectors, but we see growing consumer demand for this service and want to help parks meet that need. In its first 10 months, Turu has generated over 1 million visits to its web and mobile sites and we estimate we have generated over $5 million in accommodation bookings for our partner parks."