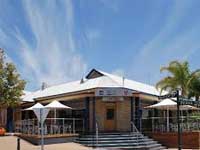 Waikerie Hotel-Motel near Adelaide hopes to complete renovation work by the end of the year. A fire swept through the hotel in September 2011, damaging a century-old stone building that housed a cafe and conference room.
Work on a $4.4 million renovation started two weeks ago.
The hotel's 19 rooms will be upgraded as part of the project.
CEO Graeme Thomsons said work had made a promising start. "It's certainly going to be a very modern and good venue for people to bring in visitors to the town," he said.