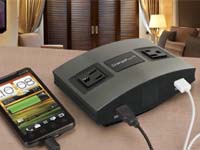 TeleAdapt has announced a new solution for solving hospitality's most prevalent guest complaint: not enough accessible power.
TeleAdapt's ChargePort charging solution is simple, affordable, and packs the most amperage in the smallest footprint. Capable of charging four devices at once the ChargePort is addressing the needs of guests with laptops, smart phones, tablets, game consoles and much more.
We all know that travellers are checking in with more devices these days. Each person will have a mobile phone of some kind at the very least. Add to that the likelihood of a tablet, a laptop or accessories in their arsenal for work or leisure; and the fact that two or more people are travelling together and you have guests needing to plug in and charge four or more devices on a daily basis.
"In all our years designing connectivity products for the guestroom, we have never seen such a pervasive and obvious problem in the market," says Neil Betterton, VP of global product development for TeleAdapt. "Lack of adequate power outlets has become an urgent problem to solve. The tremendous influx of smart phones and tablets over the last few years has caused a clear tipping point. These mobile devices are used from the moment we wake up to the moment we go to sleep… they need to stay charged and they need to stay within an arms reach while doing so."
TeleAdapt chose to address the guestroom power challenge with ChargePort, a desktop power solution with AC outlets and USB ports designed to meet the growing demand for mobile device charging at the hotel desk and nightstand.
"To be the best solution, ChargePort had to meet certain key criteria," says Betterton, "including combining AC outlets for items like laptops and traditional electronics, with high-current USB ports for smart phones and tablets. It had to be universal and future proof, avoiding the use of any docking-type connectors that could go obsolete. And, it had to be super simple to install in order to be accepted as an immediate solution for hoteliers – setting it down, plugging it in, and walking away. Plus, unlike your typical power strip that sits on the floor… it had to look good."
TeleAdapt leveraged their keen understanding of hospitality technology when developing ChargePort and built a power solution with features that attract the five-star hotelier at a price tag that a two- or three-star property can afford, including:
• A low profile, smudge-proof, rubberised finish that can be branded with hotel logo
• High-current USB ports to fast-charge smart phones and tablets including the Apple iPad
• Unique pass-through power plug, letting ChargePort share its installation outlet with another fixture such as a lamp or alarm clock
• An effortless installation process with zero renovation required, simply plugs in and sits on any desk or nightstand
• Cable clamp for security and mounting accessory available for added security if needed
• An affordable price point – starting at $US55
HITEC is in Minneapolis, Minnesota on June 25, 26 and 27.