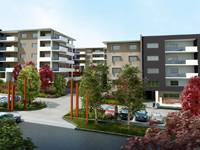 The Observatory Living project in the Canberra suburb of Wright has been given the green light by the ACT government.
Developer Geocon's $120 million apartment project has been approved by the ACT Planning and Land Authority for 270 units – more than the original 212. Geocon paid $9.2 million for site in October 2011.
The Observatory Living project is the largest multi-unit site and will consist of seven buildings ranging in height from four to six storeys.
The single six-storey building will contain 90 units. The development will surround a central courtyard.
Geocon managing director Nick Georgalis said construction would begin soon.