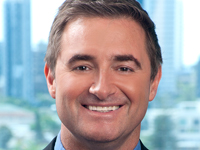 Tourism Accommodation Australia has welcomed Wyndham Vacation Resorts Asia Pacific's CEO and managing director, Barry Robinson as the newest member of its board.
Mr Robinson has been the driving force behind much of Wyndham's growth in the Asia Pacific region.
Wyndham Vacation Resorts Asia Pacific develops, markets and sells vacation ownership interests in a network of 24 vacation ownership resorts in the Asia Pacific region and serves more than 46,000 vacation owners throughout Australia, New Zealand and Fiji in its WorldMark South Pacific Club by Wyndham.
Also Mantra Group has joined Tourism Accommodation Australia and Mantra chief executive officer, Bob East, will join the Board of TAA from 1 September.
With the Mantra Group joining TAA, the accommodation industry advocacy group will represent 24 of Australia's major accommodation chains, with over 800 members in the hotel, serviced apartment, motel, resort and vacation ownership sectors.
Mantra has been the fastest growing hotel group in Australia in recent years, with a portfolio today of more than 114 hotels, resorts and retreats operating under the Peppers, Mantra and BreakFree brands. Mantra's network ranges from hotels and self-contained apartments to upscale resorts and retreats. Properties are located in every Australian capital city, as well as many of Australia's premier resort and regional destinations.
The TAA board is chaired by Tony South and comprises: Peter Crinis (Crown), Bill Edwards (IHG), Ashley Spencer (Hilton), Iqbal Jumabhoy (Silver Needle), Nigel Greenaway (Eureka), Sean Hunt (Starwood), Robert Dawson (Hyatt), Trent Fraser (Choice), Peter Hurley (AHA) and Rodger Powell (TAA).