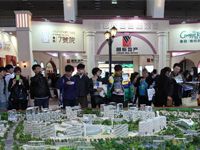 Last week in Beijing, some 35000 visitors at the 2013 Beijing International Property Expo viewed properties from around the world, including Australia.
The Ray White Group was one of the 100 exhibitors and selected 21 key properties from Australia and New Zealand for exhibition at the event. The expo has been described as the biggest trade fair for international property in north China.
The Ray White properties include major rural holdings in Rolleston (Queensland), a large scale dairy property in Finley (New South Wales), a prestige property in the Hunter Valley, an equestrian complex in the Central West and an award-winning cotton farm in Narromine. Ray White Hotels will promote a boutique hotel in Toowong and a resort on the Gold Coast.
Ray White has responded to the increasing integration of the economies of Australia and New Zealand with Asia. "We have created our own support and advice desk with dedicated specialist Chinese property experts located in Sydney. We now translate many of our listings for Chinese websites and sponsor investment tours to our regions," Brian White said.
In an endeavour to explore the relevance of Ray White in Asia, the Group commenced in Indonesia 15 years ago and today, with its 130 offices, is the major real estate group in that country. It is already leading to the substantial cross-border business, according to Mr White. "This success has encouraged the opening of offices in China, India, Malaysia and South Korea. Singapore is soon to open."
A Ray White corporate head office is now based in Hong Kong.