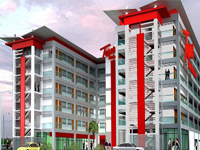 Tune Hotels opens its first Australian hotel in Melbourne today [21 October]. The 225-room Tune Hotel Melbourne at 609 Swanston St, Carlton is located next to the University of Melbourne, and features an indoor courtyard, a recreational lounge, a restaurant, café/convenience store, luggage storage, self-service launderette and computer kiosks.
It is also equipped with a basement car park, something unusual for city centre hotels in Australia. Tune Hotel Melbourne will be the 33rd property for international value hotel brand Tune Hotels.
Tune Hotels is part of the lifestyle business conglomerate Tune Group that was founded by Tan Sri Tony Fernandes and Dato' Kamarudin Meranun. Tune Hotels seeks to innovate and revolutionise the way services are made available and has employed efficient web-based technologies to reach and engage its customers, presenting a unique lifestyle opportunity.
All Tune Hotels' properties feature space-efficient, streamlined rooms focusing on high-quality basics: a five-star bed, powerful hot showers and energy-conserving ceiling fans along with housekeeping services, electronic keycard access into rooms, CCTV surveillance, and 24-hour security.
Tune Hotels has pioneered a 'pay-as-you-use' concept that has become hugely popular among travellers from across the world. Under the concept, guests only pay for room rates with the option of adding on other amenities like towels and toiletries, in-room Wi-Fi and satellite TV service.
A total of 32 Tune Hotels are currently in operation in eight countries – 11 in in Malaysia, five in the UK, one each in India and Japan, five each in Indonesia and the Philippines, and four in Thailand.